By Matthew Santamaria (msantamaria@hdsa.org)
NOTE: The following story discusses the topic of suicide. If you are feeling suicidal or have suicidal thoughts, visit the National Suicide Prevention Lifeline or call 1-800-273-8255.
For her entire life, Jenna Mannone has known about Huntington's disease (HD).
HD is a fatal genetic disorder that causes the progressive breakdown of nerve cells in the brain. It deteriorates a person's physical and mental abilities during their prime working years and has no cure.
Originally from Long Island, New York, Jenna would spend her childhood visiting her grandfather in a nursing home as he was diagnosed with HD. According to Jenna, the nursing home did not provide the care that was needed for someone with HD.
The symptoms of HD are described as having ALS, Parkinson's and Alzheimer's – simultaneously. Symptoms include personality changes, mood swings, depression, forgetfulness, impaired judgment, unsteady gait, involuntary movements, slurred speech, difficulty in swallowing, and significant weight loss.
According to Jenna, one of her grandfather's symptoms was mood swings. He would escape the nursing home a lot. Her grandfather later passed away but the HD battle was not over.
Jenna's mother, Lisa, was at risk for HD and later diagnosed. Every child of a parent with HD has a 50/50 chance of inheriting the disease.
Jenna did not know her mother without her HD symptoms. At a young age, she was confused because her mother was different from other mothers and she noticed. For example, she developed involuntary movements and would slur her words.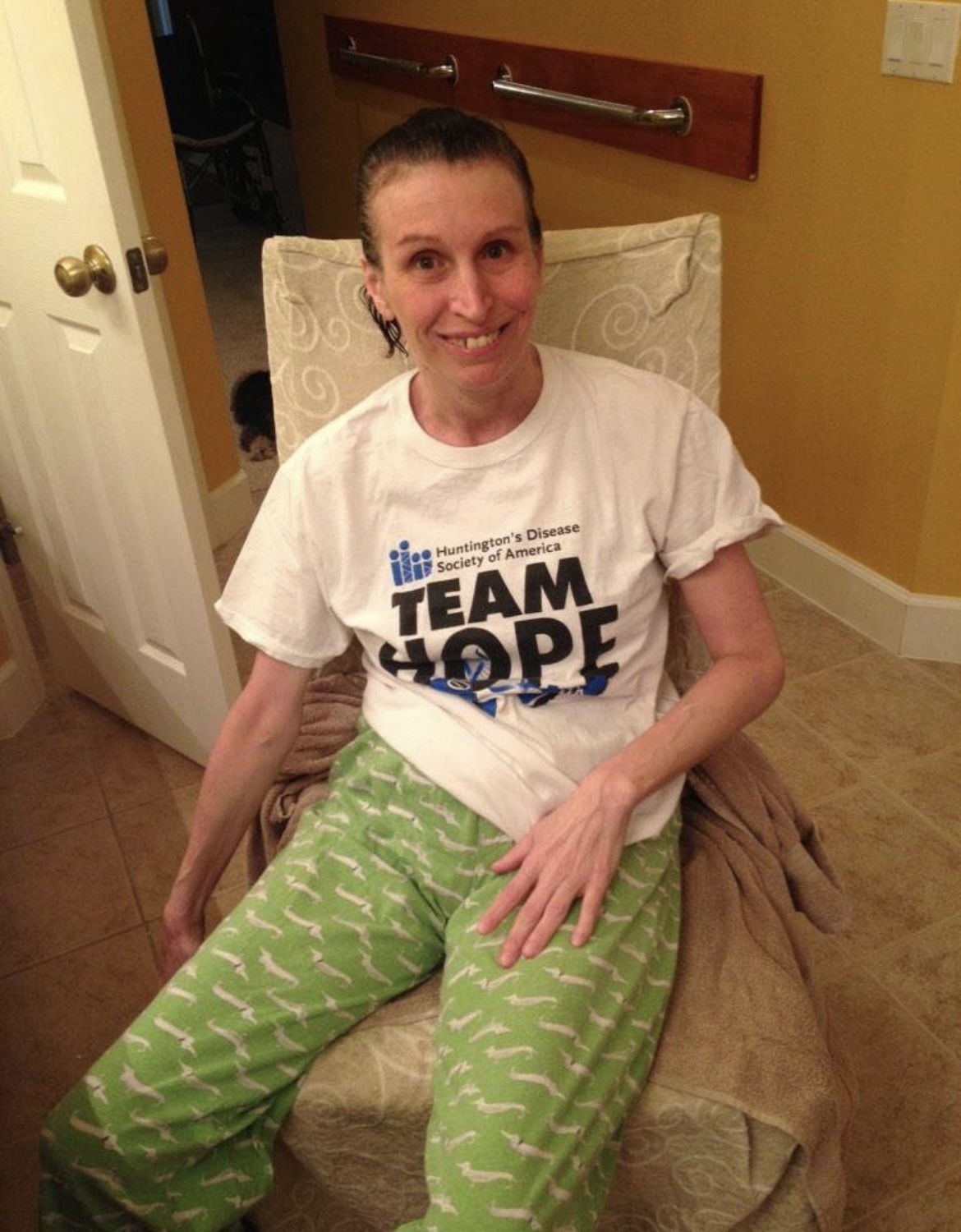 There would be bystanders that would think that Lisa was drunk. There have been documented cases of people with HD having difficult interactions with law enforcement because their symptoms are misidentified, misunderstood, or mishandled. To read more,
click here
In middle school, Jenna had a difficult time as she was bullied by other classmates. They would make fun of her for not having a "normal mother". At different school concerts, a group of people would make fun of Lisa for her HD symptoms as they were uneducated about HD.
In middle school, Jenna would try to take her own life and would later go to therapy. According to Jenna, she has blocked that time period out of her life.
However, after diagnosis, Lisa was still able to do the majority of her daily tasks until her symptoms started to progress further. Then, the family decided to move to Florida to be closer to family.
Jenna, her sister Gia, and Thomas were the main caregivers for Lisa. At the time, Gia was in college in New York and would help as much as she could. Jenna does not know where she would be in her life if it wasn't for Gia. They would always keep Gia updated especially if the symptoms progressed further to the point where she had to go to Florida as soon as she could.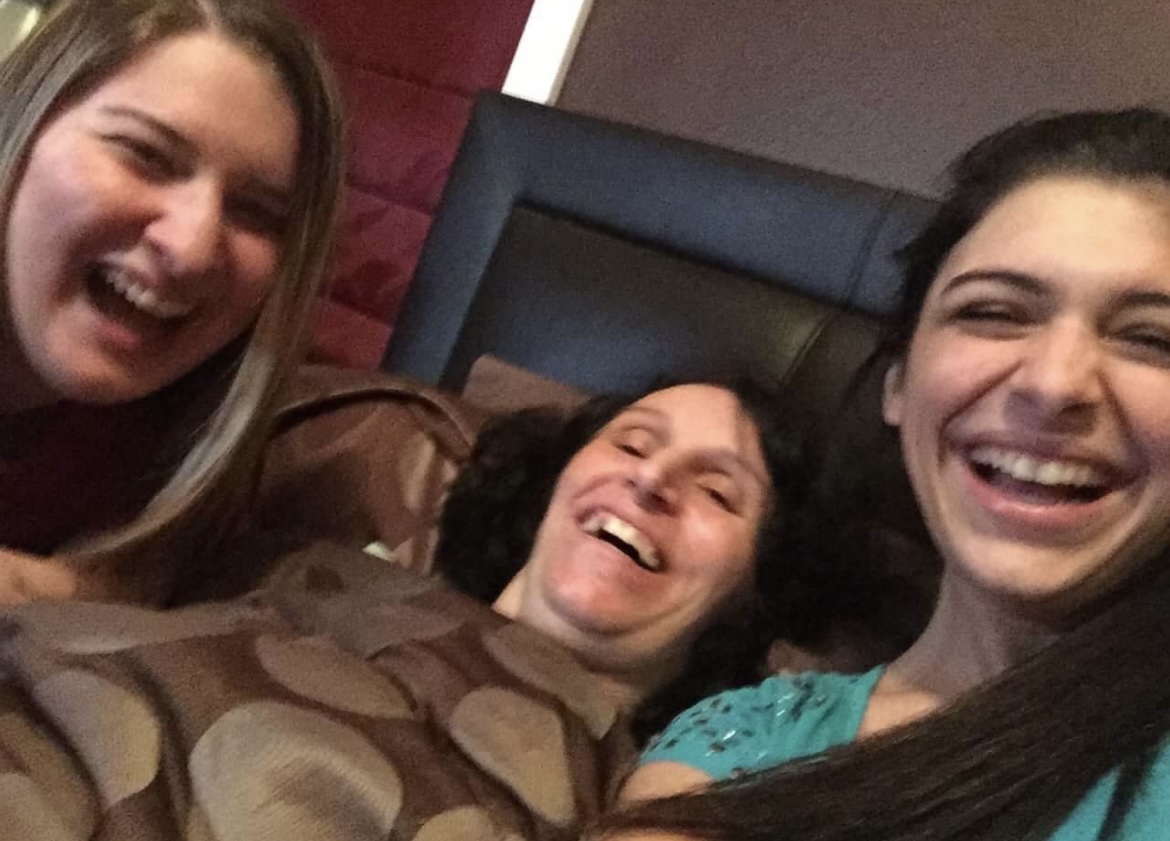 In 2019, Gia took part in the #LetsTalkAboutHD Stories. To read more about Gia,
click here
"My sister has always been the goofy, confident, and younger sister that I depended on to help me out of my shell," said Gia. "She's my best friend and the one who keeps me afloat."
For Jenna, she did not know life as a caregiver. As for Thomas, he was the caregiver for Lisa's father and would now be the caregiver for Lisa. Jenna felt like a parent at a young age. Jenna would cook for her mother as well as do other caregiving tasks.
She would try to live life as a teenager but it was difficult because she would think about her mother when she was not with her. Jenna could not turn off HD in her head. She didn't want to leave her father as the only person that was taking care of her. According to Jenna, she considers her father a hero and doesn't know where she would be without Thomas.
Jenna would never let friends see her mother because they did not fully understand HD. For example, there would be a few people that would mistake HD for cancer. Then, there were friends that helped make HD awareness shirts for her mother but Jenna still felt her friends did not fully grasp the situation.
Thomas and the hospice nurse sat next to her mother's bed explaining that Lisa needed a hospital bed. Her mother never wanted a walker, wheelchair, and hospital bed. However, everything she didn't want to happen eventually did happen.
Throughout the week, Lisa lost her voice and was not eating. She would starve herself as she was afraid to choke on her food. Then, Thomas called Gia to come to Florida because Lisa was slowly passing away.
Jenna was not ready to lose her mother. On March 20, 2016, Lisa was surrounded by her family as she passed away due to complications from HD. Thomas and Lisa were married for 25 years and together for more than 35 years.
Jenna's last words to her mother were, "I love you."
When she passed away, Jenna jumped on the bed and could not hold back her emotions as she took the death hard. She was screaming for more than an hour and would punch the floor.
"When our mother passed away, I did what I could to help her through the grief process and remind her that I will be there for her no matter what," Gia explains. "We grieved differently and for different lengths of time, but it definitely helps when you have a sibling you can reminisce with and smile and laugh through some of the pain with."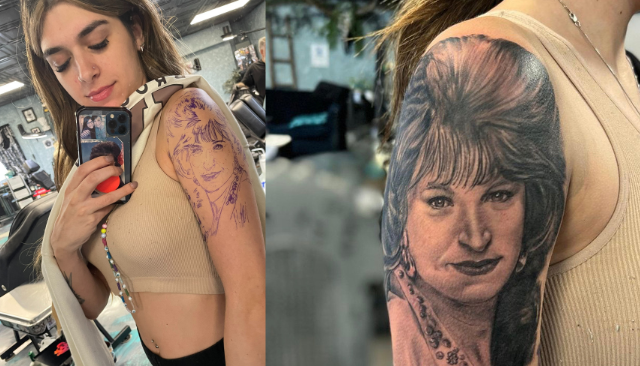 After the loss of her mother, Jenna went through depression. She felt without caregiving that she did not have a purpose in life because caregiving is all that she knew. Jenna would try to have a dog but felt burned out. She has since gone back to therapy to deal with trauma.
Jenna would become suicidal once again. Then, she reached out to the HD Community. In 2016, the same year Lisa passed away, Jenna and Gia attended their first HDSA Convention. They both joined
HDSA's National Youth Alliance (NYA)
and consider the NYA as Ohana (family).
The NYA motivates youth to get involved in their local HDSA Chapters, Affiliates, and Support Groups in efforts through education, fundraising, advocacy, and awareness.
Because of the NYA, Jenna has found another family to fight alongside her in the fight against HD. Each year, Jenna and Gia attend the Long Island Team Hope Walk in New York. Jenna also wants to do more awareness in the Tampa area of Florida.
In her family, the HD battle continues as Jenna and Gia are at risk.
The decision to get genetically tested is difficult to make. Each year, 5-10% are tested. It is never the right or wrong decision to be tested. There are people that see no benefit in knowing that they will develop the disease while others want to know in order to make informed choices about their future. It can take up to several weeks to receive your results from the genetic testing center.
For Gia, she plans on getting tested in the future. For Jenna, it has not been an easy journey to make this decision.
Jenna is scared of the future because she knows what her future will be if she tests positive for HD. She feels like she is already living like she has HD and is still grieving the loss of her mother. Her plan is to get tested in the next few years.
When Jenna is ready to get tested, she will have her family and the HD Community by her side.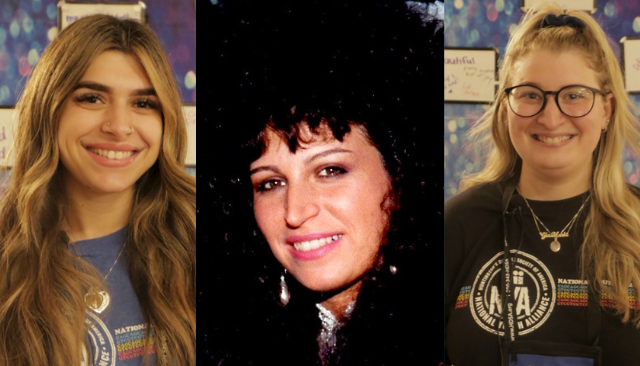 Jenna has a message for the HD Community:

"Reach out to the HD Community. It is okay to take a break because you are
worth more than the title of a caregiver. You are not alone in the HD Community."
###
Huntington's disease (HD) is a fatal genetic disorder that causes the progressive breakdown of nerve cells in the brain. It deteriorates a person's physical and mental abilities during their prime working years and has no cure. Every child of a parent with HD has a 50/50 chance of inheriting the faulty gene. Today, there are approximately 41,000 symptomatic Americans and more than 200,000 at-risk of inheriting the disease. The symptoms of HD are described as having ALS, Parkinson's and Alzheimer's – simultaneously.
The Huntington's Disease Society of America is the premier nonprofit organization dedicated to improving the lives of everyone affected by HD. From community services and education to advocacy and research, HDSA is the world's leader in providing help for today and hope for tomorrow for people with HD and their families.
HDSA was founded in 1967 by Marjorie Guthrie, the wife of legendary folk singer Woody Guthrie. Woody died from HD complications when he was only 55 years old, but the Guthrie family legacy lives on at HDSA to this day.
To learn more about Huntington's disease and the work of the Huntington's Disease Society of America, visit www.HDSA.org or call 1(800)345-HDSA.
This is a story featuring a personal experience with Huntington's disease. If you would like to have your story told please contact Matthew Santamaria at msantamaria@hdsa.org