By Matthew Santamaria (msantamaria@hdsa.org)
California resident Holly Matthews is a mother of two children. When she was in her twenties, she got married. Her husband's mother had Multiple Sclerosis. However, this was not the case.
She was later told the truth. His mother was diagnosed with Huntington's disease (HD), fatal genetic disorder that causes the progressive breakdown of nerve cells in the brain. It deteriorates a person's physical and mental abilities during their prime working years and has no cure.
"Her brother had recently passed away from HD and they had both inherited it from their mother, who had also passed away," Holly explains. "My husband had never met his biological maternal grandmother."
According to Holly, she does not have a lot of details about his family as HD was never talked about. "His mother started declining physically early in our marriage, but no one would ever talk about it," said Holly.
The symptoms of HD are described as having ALS, Parkinson's and Alzheimer's – simultaneously. Symptoms include personality changes, mood swings, depression, forgetfulness, impaired judgement, unsteady gait, involuntary movements, slurred speech, difficulty in swallowing, and significant weight loss.
As the couple wanted to have children of their own, they both decided that he needed to be tested for HD. Every child of a parent with HD has a 50/50 chance of inheriting the faulty gene. The decision to get genetically tested is difficult to make. Each year, 5-10% are tested. It is never the right or wrong decision to be tested. There are people that see no benefit in knowing that they will develop the disease while others want to know in order to make informed choices about their future. It can take up to several weeks to receive your results from the genetic testing center.
"He is the oldest of three, the first married, and the first to consider children so we didn't have anyone to talk to about where to turn next," Holly explains. "We called every doctor we could think of between Lake Tahoe and San Francisco. The lack of knowledge about HD meant that most receptionists we talked to would tell us cheerfully that they tested for HD, only to later be told in a completely different tone that they did not test for HD. It was very strange. We traveled to the Mayo Clinic in Arizona to meet with specialists, learn about HD, the testing process, etc. We came home with some info about getting long term insurance, but no real answers about where to go or what to do next."
Her husband started to have visual disturbances and saw a neurologist. According to Holly, his brain was scanned, and the neurologist saw no signs of HD.
"He assured us that he would definitely be able to see it by now if in fact my husband had inherited the gene," said Holly. "It was believed my husband was having migraine-aura.?We left with migraine medication and the symptoms never stopped."
Eventually, they decided to have a baby.
"We figured that even if my husband did have HD (which after the neurology appointment we thought was a very slim chance) our child still had a 50/50 chance at not inheriting the gene," Holly explains. "This coupled with the perception that the medical community seemed to be getting closer to a cure and we were told by respected and very intelligent people that if my husband did have it and the child did inherit the gene, the child wouldn't develop HD until around 40-years-old anyway, so we would be in the clear."
Holly then got pregnant, but her husband's mental health started to decline. According to Holly, the first thoughts were that he was nervous about the stress of the impending child and the responsibility of raising and protecting another human.
"He was 27-years-old and he started seeing a psychiatrist because he was having some paranoid thoughts and OCD type behaviors," said Holly. "It was treated with therapy and medication and he never improved. Shortly after our daughter was born, we divorced."
A few years later, his mental health was worsening and tested for HD. He tested positive as him and Holly were extremely worried for their daughter, Bella.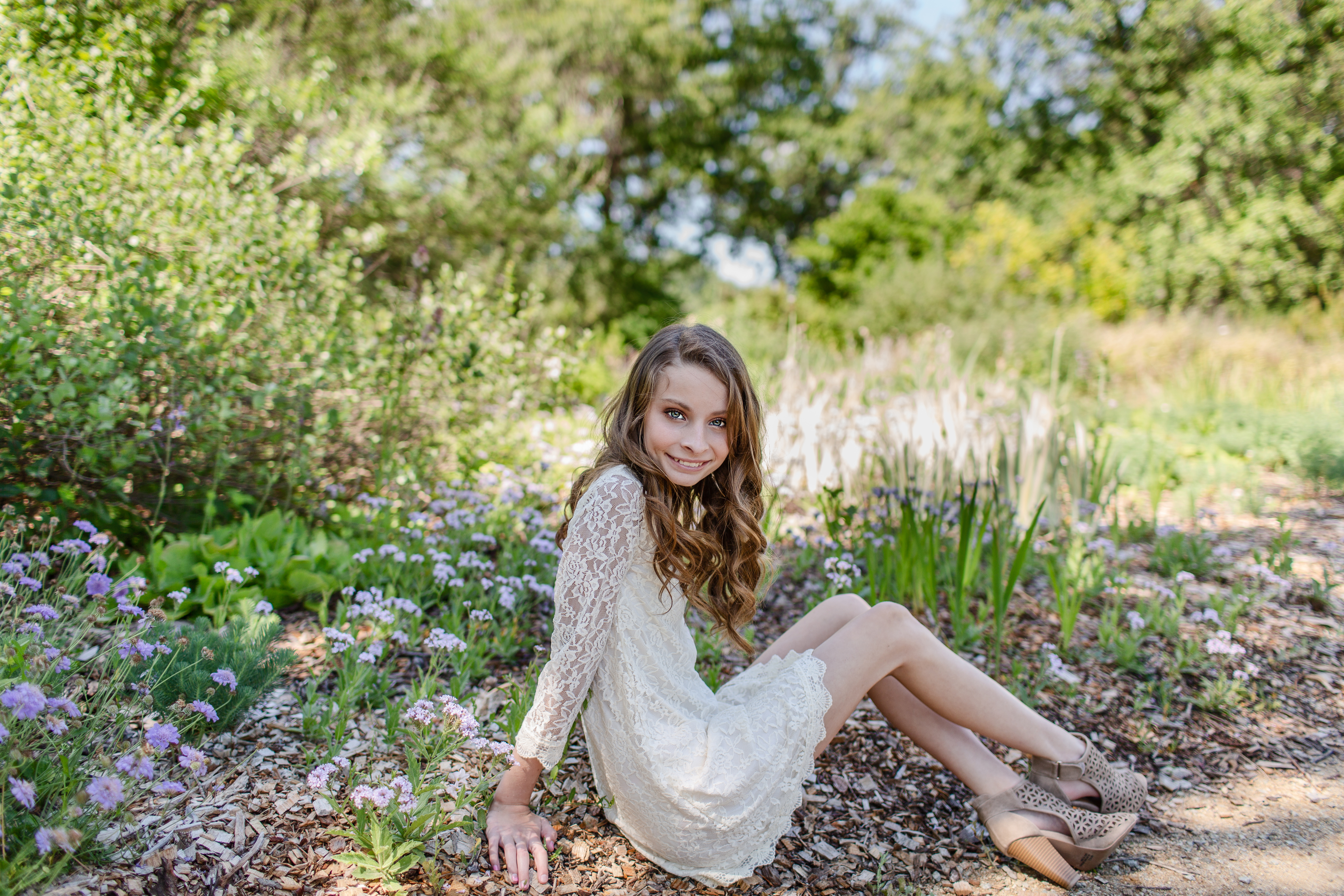 As the years went on, Bella was doing well in school. Holly describes her daughter as fun, sassy, bubbly, and very smart. Bella was highly active socially and placed in the top three of her classmates in math-oriented tasks. However, things started to change in the fifth grade.
"Her grades started to slip, she didn't have any interest in seeing or communicating with friends, and her spunky attitude faded away," Holly explains. We knew something was off and started the process of trying to get her tested for HD. In the meantime, she was put on an antidepressant and for the most part, her personality came back."
As Holly did more research, she came across Juvenile Onset Huntington's disease (JHD). This is a form of HD that affects children and teenagers. JHD usually has a more rapid progression rate than adult-onset HD; the earlier the onset, the faster JHD progresses. One of the signs that pointed out to Holly was failing grades and depression.
"I ended up with a pit in my stomach and in the back of my mind I knew the worst was coming," said Holly. "We started with our pediatrician and he ordered the blood test. When the time came to take her, the lab refused to do the test. We were then referred to a child neurologist. He ran a brain scan and told us it did not look good and that he would order the blood test. After some back and forth between the doctor and the lab, we were finally able to get her tested at the age of 11-years-old. My worst fears were realized. Bella has JHD."
The family made the choice not to tell her yet.
"This was harder than I could ever imagine," Holly explains. "I was devastated, and the weight of the world was on my shoulders. I would have times where I was researching and reaching out to anyone I thought might be able to help, and there were other times when merely seeing my daughter's sweet face sent me into a tailspin and I'd lock myself in my room for days."
At this point, Holly was recommended to reach out to the
University of California Davis (UC Davis) Medical Center
. This is one of the 50 HDSA Centers of Excellence that provide an elite team approach to HD care and research. Professionals have extensive experience working with families affected by HD and work together to provide families the best HD care program.
"I was nervous about our first appointment, but it was the best thing that has happened to us so far," said Holly. "I was able to put a lot of my worry and research in their hands and just be a mom."
Bella continued to go to school as usual until a teacher learned about the diagnosis and the principal was informed. They were forced to notify the school which was a blessing in disguise for the family.
"The school rallied around us and put together a temporary plan for her until we needed to make a permanent plan," Holly explains. "When she was almost 13-years-old, she was really struggling with school and it was affecting her self-esteem so we decided now was the time to tell her about the diagnosis. She took it in stride and seemed relatively unaffected."
According to Holly, Bella wanted her peers to know. The family would then reach out to UC Davis for assistance.
"UC Davis offered to meet with the teachers to discuss HD and how it is and will affect our daughter," said Holly. "They also did a presentation for my daughter's classmates to help them understand what was going on with her as well.?Being open about it has given us more room to accept the diagnosis and move forward grieving it at the same time."
Now, Bella is a freshman in high school as the family is building a team at the school to help support her through the next four years. Bella is showing more symptoms and is on medication to help with involuntary movements as she just wants to be a regular teenager.
"We want to have experiences, travel, and make memories," Holly explains. "It's important that she see new things and have fun experiences. Every wish I make, on a shooting star, when I blow out the birthday candles, see the clock hit 11:11, find a stray eyelash to blow away...every wish is for a cure for my daughter."

Holly has a message for the HD Community:

"My message is to live. Don't worry about the small stuff. Experience, enjoy, have fun and make memories--Live. Also, find an HD Center of Excellence! The support and knowledge are truly life changing!"
###
Huntington's disease (HD) is a fatal genetic disorder that causes the progressive breakdown of nerve cells in the brain. It deteriorates a person's physical and mental abilities during their prime working years and has no cure. Every child of a parent with HD has a 50/50 chance of inheriting the faulty gene. Today, there are approximately 41,000 symptomatic Americans and more than 200,000 at-risk of inheriting the disease. The symptoms of HD are described as having ALS, Parkinson's and Alzheimer's – simultaneously.
The Huntington's Disease Society of America is the premier nonprofit organization dedicated to improving the lives of everyone affected by HD. From community services and education to advocacy and research, HDSA is the world's leader in providing help for today and hope for tomorrow for people with HD and their families.
HDSA was founded in 1967 by Marjorie Guthrie, the wife of legendary folk singer Woody Guthrie. Woody died from HD complications when he was only 55 years old, but the Guthrie family legacy lives on at HDSA to this day.
To learn more about Huntington's disease and the work of the Huntington's Disease Society of America, visit www.HDSA.org or call 1(800)345-HDSA.
?This is a story featuring a personal experience with Huntington's disease. If you would like to have your story told please contact Matthew Santamaria at msantamaria@hdsa.org